Rancho La Puerta offers one-on-one holistic therapies throughout the week. From craniosacral therapy and chiropractic services to Feldenkrais®, acupuncture, Ayurveda, and WATSU® & Water Dance™, our therapists are highly skilled masters—the finest in their fields.
Holistic Therapies
Acupuncture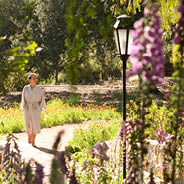 Improve and maintain your health through the deeply therapeutic practice of acupuncture. Hair-thin needles are painlessly inserted into a network of energetic pathways called meridians or channels. Energy runs throughout the meridians, allowing for the body's
Qi
(pronounced 'chi') or energetic life force, to flow without obstruction. Whether you seek treatment for an acute or chronic condition, or seek simply to achieve overall wellness, acupuncture treats the root cause of imbalances. This ancient Chinese healing practice creates a relaxed and harmonious state of equilibrium within.
50-minute session $145

Ayurveda*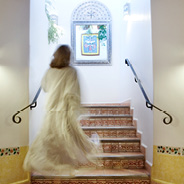 Ayurveda has been practiced for over 5000 years and is the oldest healing system in the world. Ayurveda means the 'science of life' and it teaches us how to live a long, healthy and happy life as well as providing the tools to treat disease. It is based on a profound understanding of nature and the elements that nature encompasses; space, air, fire, water and earth. By understanding nature's elements within us, we come to understand our own true nature. Through a comprehensive consultation you will be given the knowledge and the tools to empower you to live a balanced life, full of health and happiness.
*Therapist may not available every week.  Email reservations prior to your visit: reservations@rancholapuerta.com
Biodynamic Craniosacral Therapy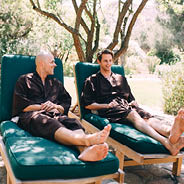 Achieve a revitalized state of health by naturally reducing aches, chronic pain, stress and emotional imbalances. As you rest comfortably, light healing touches are applied to the body to treat trauma and restore health. Biodynamic Craniosacral Therapy brings the emotions and spirit into balance and reconnects the body with its ability to heal itself.
50-minute sessions $105
90-minute sessions $160
Chiropractic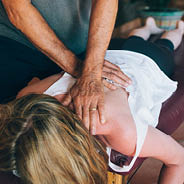 Understand and treat the root cause of chronic pain with a rehab oriented chiropractic session. Receive evaluations for strength, biomechanics, and gait, and experience corrective soft tissue massage, chiropractic adjustments, and restorative yoga exercises. Guests are provided with a self-treatment plan in order to extend the beneficial effects of these sessions at home.
50-minute session $145

Energy Medicine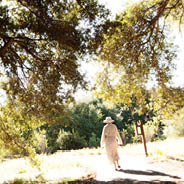 REIKI
Dissolve the body's aches, strains and emotional imbalances with an empowering Reiki session. Soften into tranquility as the chakras are balanced, either with gentle touches or with hands slightly off the body. Reiki uses
Qi
(pronounced 'chi'), its life force energy to remove energy blocks so healing energy can freely flow and harmonize the mind, body, and spirit.
RECONNECTIVE HEALING®
Experience an optimal state of balance and well-being with a Reconnective Healing®. Rest deeply as the practitioner guides energy, light and information (vibrational frequencies) around the body using a hands-off approach. Feel relief as imbalances leave the body, and a sense of harmony replenishes the spirit.
SOMATIC EXPERIENCING®
Feel alive, relaxed and whole again as tension, pain, and stress diminish. Somatic Experiencing resets the Central Nervous System through sensory methods that help to resolve the effects of past traumas. Learn to regulate stress through a guided exploration of the interplay between emotions and the body.
LIFELINE TECHNIQUE™
Regain a sense of peace and empowerment as you awaken to the root causes of stressful experiences that manifest as symptoms. The practitioner will help connect the conscious and subconscious mind with practices such as Chinese Five Element theory, sound, crystal and color therapy, chakra balancing, Neuro-linguistic
Programming (NLP), and Applied Kinesiology.
Your therapist will help you determine which treatment is right for you.
50-minute sessions $120
90-minute sessions $175
Feldenkrais® Method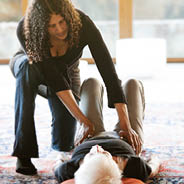 Improve comfort, posture, and balance while reducing pain, tension, and stress. Each Feldenkrais® Method session is tailored to meet your needs and aimed to improve how you feel and function. As you lay fully clothed on a table, your body will be gently moved in ways that allow for effective communication with the brain and the nervous system. Sessions are designed to increase confidence and pleasure in daily activities.
50-minute session $95

WATSU® & Water Dance™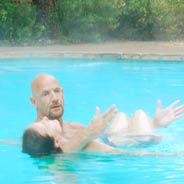 Enter a deep state of relaxation and strengthen the mind-body connection while floating in a cocoon of warm water. In WATSU® & Water Dance™, the body is supported, massaged, and gently moved through a warm 96º pool in graceful and fluid movements. This soothing therapy often generates positive changes in the autonomic nervous system.
50-minute session $175

Holistic Practitioners