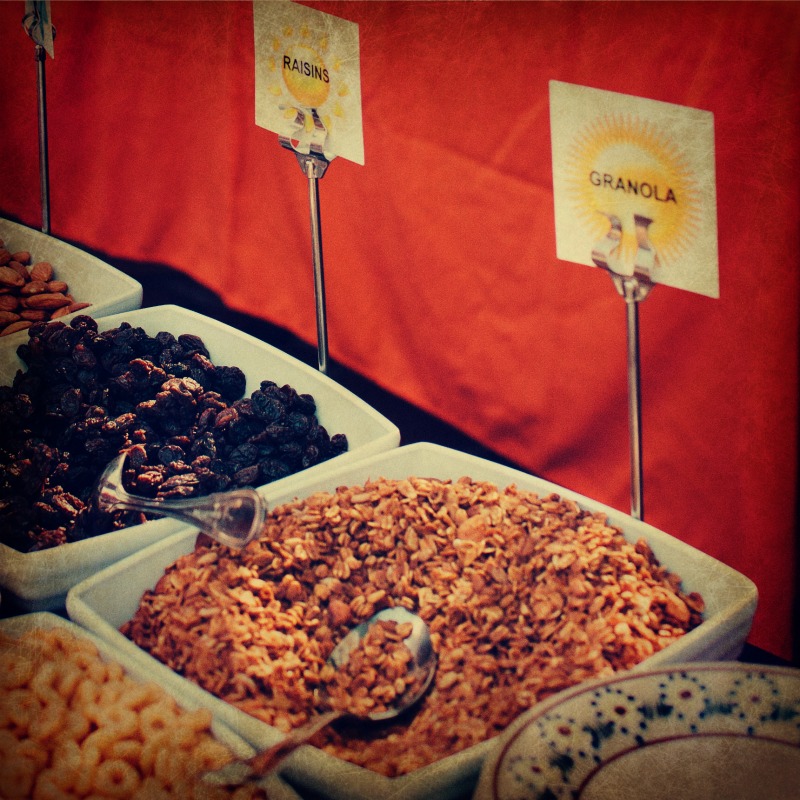 One of the staples in the Ranch kitchen is our healthy granola recipe.  Super yummy, satisfying and low in calories, this recipe is a huge favorite of our guests.  So as a gift to you from us and a way to bring the Ranch home, we offer you our granola recipe.  Enjoy!
Makes six cups
Ingredients:
Vegetable oil spray

3 cups old-fashioned rolled oats
½ cup chopped almonds
½ cup sunflower seeds
¼ cup whole wheat flour
¼ cup oat bran
1 tablespoon ground cinnamon
¾ teaspoon ground ginger
¾ teaspoon ground cardamom
¾ cup honey
½ cup unsweetened unfiltered apple juice
2 tablespoons vanilla extract
2 teaspoons canola oil
2 teaspoons grated orange zest
2 tablespoons fresh orange
juice (optional)
Instructions:
Preheat oven to 250ºF. 

Lightly coat a baking sheet with vegetable oil spray.
In a large mixing bowl, combine the rolled oats, almonds, seeds, flour, oat bran, cinnamon, ginger and cardamom.
In another bowl, whisk together the honey, apple juice, vanilla and oil until the honey is thoroughly incorporated.  Add the orange zest and the orange juice if desired.
Pour the wet ingredients over the dry ingredients and mix well.  Spread the granola evenly over the baking sheet and bake 1 to 2 hours, checking every fifteen minutes.  When the granola starts to brown, stir gently with a spatula.  Take care that the outside edges do not burn.  When golden and dry, scrape onto a plate or cool baking sheet and set aside to cool.  Store in an airtight container until ready to use.
Calories per serving: 25, 1 tablespoon per serving